Board of Directors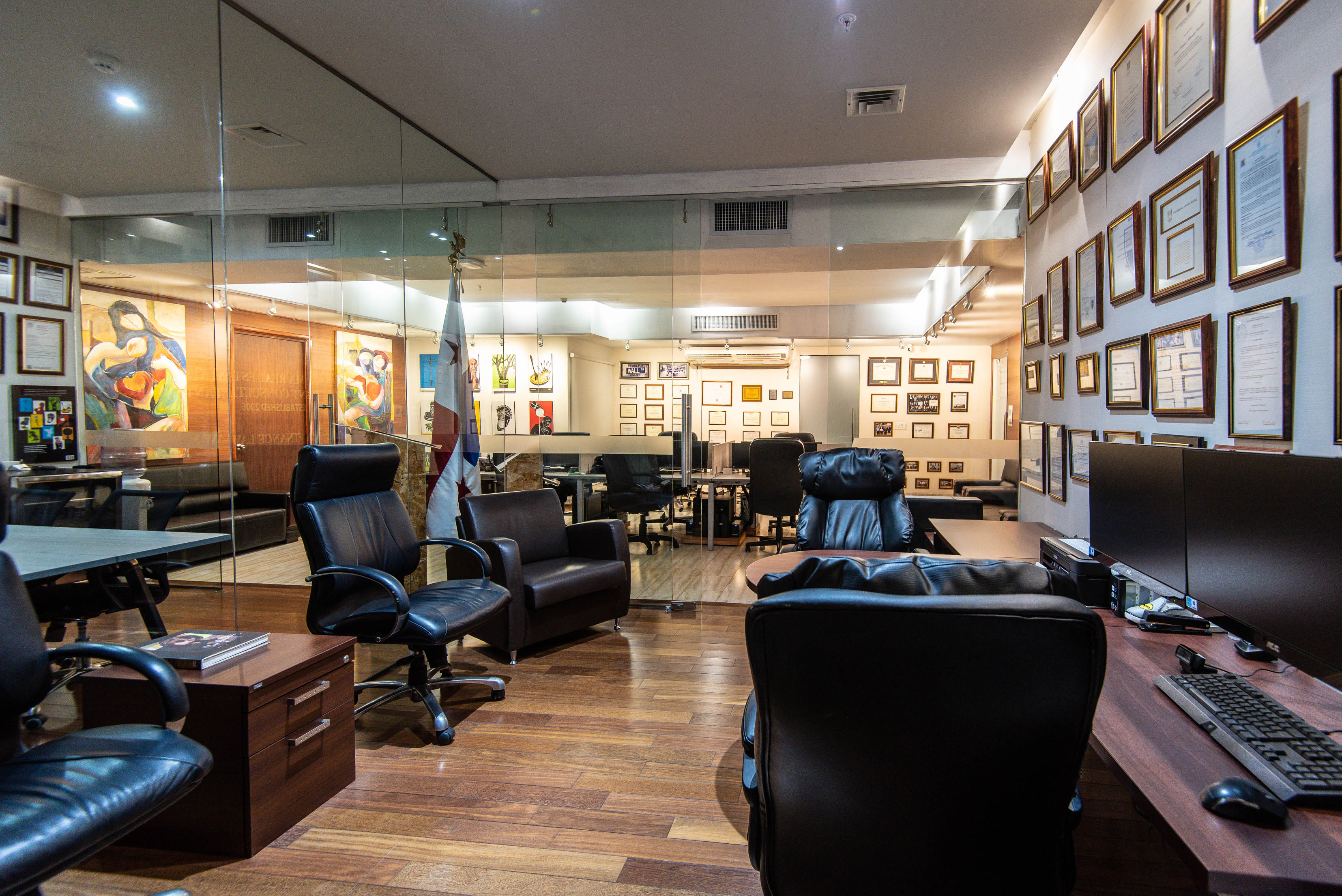 Board of Directors 
Arturo Miranda Castillo, panamanian and chilean, underwriter and director, has structured, financed and placed a wide array of financial and/or real estate transactions having negotiated thousands of contracts in between a global investor base of institutional, corporate and individual clients. Specialist in finance & real estate underwriting and financial arbitrageur in deals, mergers, acquisitions, takeovers and dispositions. He is a finance lawyer and managing partner of Panama Finance Law & Co established in 2007. He is currently the Chair of the Real Estate and Construction Committee of the American Chamber of Commerce and Industry of Panama, Manager of the entities located in P.H. Denovo Office 6-A and Member of the Board of Directors of the Association of Property Owners of Panama with legal registration at the Ministry of Government of Panama. He has a Master of Business Administration in Finance from the Alvah H. Chapman, Jr. Graduate School of Business at FIU, a Post MBA from INCAE Business School and a Master of Laws in Law and Management from INIDEM Business Law School. He has a Master of Finance from the Adolfo Ibáñez School of Management in Chile. He has a specialization in financial markets, trusts and securities from ADEN International Business School, and a specialization in law and corporate finance from INIDEM Business Law School and ESADE. He holds executive education in risk management at NYU Stern School of Business and financial management at Columbia Business School, among others.
Patricio Miranda Castillo, panamanian and chilean, underwriter and director, engineer with more than 15 years of work experience and is currently IT Senior Manager in Reference Data Solutions for Enterprise Holdings, Inc. a US holding company with sales of twenty billion and 93 thousand employees, headquartered in Clayton, Missouri. The holding company was formed in 2009 as a result of Enterprise Rent-A-Car's 2007 acquisition of Vanguard Automotive Group, the parent company of National Car Rental and Alamo Rent a Car. Currently, through a series of mergers and acquisitions, it is the parent company of car rental companies Enterprise Rent-A-Car, National Car Rental, Alamo Rent a Car, and Enterprise CarShare. Enterprise ranks as the largest car rental company in the US with a global presence. He holds a Master of Business Administration in Management from the Robert W. Plaster School of Business & Entrepreneurship at Lindenwood University.

Noemi Lucila Castillo, founder and director, has over 45 years of professional experience and is director of  Panama Real Estate & Investment Consultants, Corp. She has consulted for the World Bank and is a member of the Panama Foundation of Ethics & Civics. Has been 3 times deputy president of the National Canvassing Board of the Electoral Tribunal of Panama for the General Elections of 2014 and 2009 and for the Panama Canal Expansion Referendum held in 2006. Has also been a member of the education committee in the National Assembly of Panama. Has had consulting, advisory and/or other roles for the Inter-American Development Bank, the Organization of American States, PREAL, United States Agency for International Development, and COSPAE. She was Corporate Rector of Panama for Laureate International Universities, headquartered in Baltimore, Maryland; former executive director and president of the Council of Rectors of Panama, chair of the Iberoamerican University Council, headquartered in Spain; Rector of Nova Southeastern University, in the former Canal Zone, headquartered in Fort Lauderdale, Florida; and co-founder in 1979 of USMANIA, R.L., a savings and loan credit union. She is currently the President of the Education Commission of the Panamanian Association of Business Executives, the Treasurer of the Board of Directors of the Co-Owners Assembly of P.H. Denovo and Member of the Board of Directors of YMCA with legal registration at the Ministry of Government of Panama. She holds a Doctor of Philosophy from Western Colorado University, advanced post doctoral studies at the University of Notre Dame and postgraduate degrees at the Complutense University of Madrid, Spain. 
Underwriters
The underwriting of shares is a contract by which a person called underwriter, agrees to enter into the company, within the stipulated period and conditions, and that under which it acquires the status of shareholder. Evaluates and assumes the risk of third parties in exchange for a compensation, payment or fee, such as commission, premium, margin or spread, retainer, emolument, rent, interest or dividend and/or capital gains. The underwriters of the company are: Patricio Miranda Castillo and Arturo Miranda Castillo, who is the lead underwriter.
"An underwriter is a financier with imagination" - Arthur Wing Pinero
Directors
The directors of the company make up the collegiate body of the company, which with leadership and vision, coordinate and define the direction of the company, establish mechanisms for the achievement of corporate goals and are responsible for the proper functioning of the entity. They are elected by the Shareholders Assembly. The directors of the company are: Noemi Lucila Castillo, Patricio Miranda Castillo and Arturo Miranda Castillo, who is the managing director.
Officers
They are people who hold a seat or position of great authority, prestige and honor within the organizational structure of an entity. They have the administrative control of the company and are the only ones that can commit it and represent it with the power and faculties to enter into contracts in favor of it and celebrate other binding acts with the administration and operations of the entity. The officers of the company are: Noemi Lucila Castillo and Arturo Miranda Castillo, who is the legal representative.
Corporate Governance
Corporate Governance is the system of rules, principles, processes, procedures, ethical standards and conduct, for which an entity is directed, controlled and based on good practices that give it a solid management structure and allows it to have a guide to achieve the equitable balance of the interests of the shareholders, the Board of Directors, Senior Management, collaborators and other interest groups; aligning the objectives of the company in all areas of its performance, from business plans, internal controls, to performance measurement and corporate disclosure.

Executive Committee

Arturo Miranda Castillo, Managing Director 

Noemi Lucila Castillo, Director


Ethics & Compliance Committee 

Noemi Lucila Castillo, Director 
Maria de los Milagros Perez, Lawyer 


Risk Committee

Maria de los Milagros Perez, Lawyer 

Francisco Nieto Navarro, Financier 


Audit Committe 

Francisco Nieto Navarro, Financier 

Maria de los Milagros Perez, Lawyer 
Legal Committee
Arturo Miranda Castillo, Lawyer 
Maria de los Milagros Perez,Lawyer  
Chief Executive Office
The Chief Executive Office is administered and managed by Arturo Miranda Castillo, who is the Principal Executive. The Principal Executive is any executive or employee of the company who has key responsibilities regarding the business, its administration, operations, accounting, finance, auditing, human resources and legal matters of the company. As well as oversight over the operations and personnel of the company. In addition, he also oversees the issues of information technology, marketing, advertising, sales, graphic design and other related support activities. Among the main functions of the Chief Executive Office we can mention the following:
Corporate, financial and investment activities: corporate strategy, financial structuring, asset portfolio management, execution of operations, investment performance, among others.
Execution of financial and transactional operations: drafting and execution of all types of contracts derived from transactions, as well as administration of escrow accounts (when applicable) and other advanced negotiation and sophisticated mediation aimed at facilitating administrative and legal processes for the closure of transactions.

Text courtesy of the MBA Oath
"As a
manager
, my purpose is to serve the greater good by bringing people and resources together to create value that no single individual can create alone. Therefore, I will seek a course that enhances the value my enterprise can create for society over the long term. I recognize my decisions can have far-reaching consequences that affect the well-being of individuals inside and outside my enterprise, today and in the future. As I reconcile the interests of different constituencies, I will face choices that are not easy for me and others.
Therefore, I promise:
I will act with utmost integrity and pursue my work in an ethical manner.
I will safeguard the interests of my shareholders, co-workers, customers and the society in which we operate.
I will manage my enterprise in good faith, guarding against decisions and behavior that advance my own narrow ambitions but harm the enterprise and the societies it serves.
I will understand and uphold, both in letter and in spirit, the laws and contracts governing my own conduct and that of my enterprise.
I will take responsibility for my actions, and I will represent the performance and risks of my enterprise accurately and honestly.
I will develop both myself and other managers under my supervision so that the profession continues to grow and contribute to the well-being of society.
I will strive to create sustainable economic, social, and environmental prosperity worldwide.
I will be accountable to my peers and they will be accountable to me for living by this oath.

This oath I make freely, and upon my honor."